Johnson & Johnson Research and Development
Spring House, PA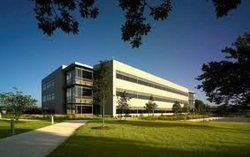 SVE Group was recently hired to conduct an independent audit of the lighting systems for the J & J Pharmaceutical Research and Development in Spring House, PA .
A research facility that opened in March 2009 in Spring House, Pa., was designed and built according to the Sustainability Baseline. The project achieved the first LEED Gold certification for a Johnson & Johnson research laboratory. Gold is the second highest level of LEED certification, based on a 69-point scoring system; Spring House achieved 43 points. The project began in 2005 when Johnson & Johnson Pharmaceutical Research & Development, LLC decided to consolidate research efforts from facilities in Cranbury, N.J., and Exton, Pa. The vision was to create a more innovative and collaborative environment in which research teams could work together in the pursuit of medicines that address unmet patient needs. The state-of-the-art facility was designed with open laboratory environments, collaboration space and many environmental and energy-saving innovations.
The purpose of the survey was to verify that the construction documents were followed at the time of construction and that all equipment and materials were as specified. The audit included extensive survey work and documentation of the Lighting systems for the facility's owner's use in achieving Energy Conservation Income Tax Credits. Through the energy certification process, our clients are eligible for significant tax benefits through the 2005 Energy Policy Act, which was recently extended through December 31, 2013.
Return to Fetured Projects page

---