NAVFAC P-161V Hangar Renovation at McGuire Air Force Base, NJ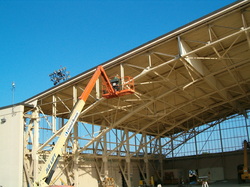 McGuire Originated in 1941 as Fort Dix Army Air Force Base but closed briefly after World War II. In 1948 it reopened as McGuire Air Force Base. The original 1950's steel hangar for four Army C12 light passenger/freight airplanes at McGuire Air Force Base, NJ was renovated for this project. This project took place in Burlington County, New Jersey.
As a sub consultant to MAGNUM, Inc., SVE Group provided the Building Commissioning Services and the LEED AP Administrator Services for this project.
This project consisted of the renovation of the existing Hangar 1811 at McGuire AFB. The renovations included the removal and replacement of the interior building systems and the building envelope. This project also consisted of expanding the existing pavemenet east of hangar 1811 to accommodate aircraft parking.

The building systems renovations included new fire protection and HVAC systems. The interior consisted of new shops and administration areas. The building envelope renovations included new hangar doors, new standing seam roofing, and new split face block facade with new windows. Sustainable design principles and energy conservation was integrated into the design, development, and construction of the project. This project was designed to achieve a LEED Silver Certification.


The following systems were commissioned for this project:

Electric Water Heaters
Domestic Hot Water Pump
Air Handing Units
Air Cooled Condensing Unit
Gas Boilers
Hot Water Pumps
Fin Tube Radiation
Fans
Unit Heaters
Hot Water Coils
Testing and Balancing
HVAC System Controls
Lighting Control System

Return to the Featured Projects page
---