USACE F-35 Control Tower
Duke Air Force Base, FL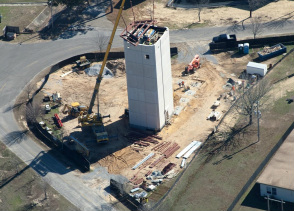 SVE Group was selected as the LEED Administrator for the F-35 Control Tower, Duke
Field, Florida.
This project includes the construction of a new control tower which will contain reinforced concrete footings, foundation, floor slabs and walls. The project will include thermal glass observation cab, incoming utilities, parking lot and roadway. The tower will include mechanical, electrical, and electronic equipment rooms, flight support and training facilities, and administrative
offices.
SVE Group's work includes LEED Credit validation and documentation. SVE Group shall coordinate through the contracting Officer with the Government's LEED consultant on assuring assembled data is acceptable to USGBC and responding to USGBC requests for additional construction data in the course of seeking project certification.
SVE Group also developed a construction phase LEED Implementation Plan. The plan, when completed, shall provide a detailed description of all activities that relate to accomplishing project LEED requirements, including construction practices, procurement practices, and proposed submittals and documentation for each LEED credit.
Our final deliverable for the project includes a LEED Documentation Notebook. SVE Group shall prepare a comprehensive notebook documenting compliance for each LEED credit identified in Table 1 of the contract documents. LEED Documentation Notebook shall be formatted to match LEED
numbering system and tabbed for each credit and prerequisite.
Return to Featured Projects page
---