Child Development Center at the Naval Air Station
Patuxent River, MD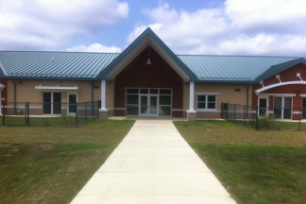 SVE Group was awarded the Building Commissioning Services and LEED Administrative Services for a Design/Build Project for the Child Development Center (CDC) at the Naval Air Station Patuxent River, located in St. Mary's County, Maryland. This project is being constructed under the supervision of the Naval Facilities Engineering Command (NAVFAC).
The project is for the construction of a one story facility to support 302 children. The building shall be constructed with a pile foundation, concrete floor, masonry walls, standing seam metal roof, and sound attenuation to reduce jet noise. The facility will include: closed circuit TV System, intrusion detection system, public address system, fire protection system, HVAC System, and mechanical and electrical utilities. Functional areas include a mechanical room, offices, toilets, isolation room, staff lounge, kitchen, food storage, teacher's storage, teacher's preparation room, reception area and, activity room for infants, toddlers and preschool children. Supporting facilities include mechanical/ electrical utilities, sidewalks, roads, drop & pick-up area, parking lot, fenced playground with 5% of it being covered, site improvement that includes earthwork, borrow, topsoil/ seed, storm drainage, environmental protection, landscaping and demolition of pavement utilities. This project will conform to all Anti Terrorism/ Force Protection standards and LEED Silver and EPAct 2005 criteria. The Child Development Center (CDC) shall be handicapped
accessible including outdoor playground and covered spaces.
The following systems were commissioned as part of our scope of work:
Chilled and Heating Hot Water Piping
Domestic Hot and Cold Water Piping
Natural Gas Piping
Ductwork
Rooftop Air Handling Units
Energy Recovery Units
Variable Air Volume Box (VAV)
Make-Up Air Units
Split System DX Units
Exhaust Fan
Air Cooled Water Chiller
Gas Fired Boilers
Hot Water Cabinet Unit Heaters
Pumps
Variable Frequency Drives
HVAC Controls
Testing and Banlancing
Gas fired Domestic Water Heater with Circulation Pumps
Lighting Controls
Return to Featured Projects Page
---