USACE Armed Forces Reserve Center
Jonesboro, AR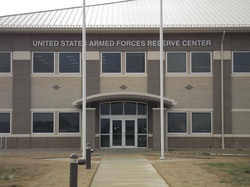 SVE Group was awarded the Building Commissioning Services for a Design/Build Project for an Armed Forces Reserve Center (AFRC) in Jonesboro, AR. This project is being constructed under the supervision of the U.S. Army Corps of Engineers; Lousiville District.
This project will provide an approximately 73,000 square foot training building, an approximately 24,000 square foot Vehicle Maintenance Shop (VMX), and an approximately 3,500 square foot Organization Unit Storage. The AFRC will provide an adequately sized and functionally configured facility to accommodate the
mission and staffing for the Jonesboro Army Reserve unit and three Arkansas Army National Guard units with administrative, educational, assembly, library, learning center, vault, weapons simulator and physical fitness areas. The project will also provide adequate parking space for all military and privately-owned vehicles.
The facility will be home to the following units of the Arkansas National Guard:
- Headquarters, 875th Engineer Battalion
- Headquarters, 875th Forward Support Company
- 1036th Engineer Company
-Northeast Ark Area Recruit Sustainment Program
The following units of the U.S. Army Reserve will also be housed here:
- 383rd Mobility Augmentation Company
- 392 Chemical Company
As part of the Government's initiative to build Green; the project is looking to achieve a LEED Silver certification.
The following systems were commissioned for this project:

Training Center
Heating Hot Water Piping
Chilled Water Piping
Ductwork
Air Handling Unit
Make-Up Air Unit
Variable Air Volume Boxes
Split System Air Conditioning Unit (Indoor Unit)
Split System Air Conditioning Unit (Outdoor Unit)
Fan Coil Unit
Pumps
Packaged Air Cooled Chiller
Hot Water Boiler
Hot Water Unit Heater
Exhaust Fans
HVAC Controls
Domestic Hot Water Heater with Pumps
Lighting System

OMS/FMS Building:
Ductwork
Gas Fired Furnace
Air Cooled Condensing Unit
Split System Air Conditioning Unit (Indoor Unit)
Split System Air Conditioning Unit (Outdoor Unit)
Make-Up Air Unit
Electric Unit Heater
Gas Fired Unit Heater
Infrared Heater
Exhaust Fans
HVAC Controls
Domestic Hot Water Heater with Pumps
Lighting System


Return to Featured Projects Page
---