USACE Army Reserve Center
Brownsville, TX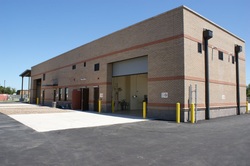 SVE Group was selected as the LEED Administrator for the Army Reserve Center in Brownsville, TX.This project includes the construction of a new approximately 200-member ArmyReserveCenter. Primary facilities include approximately 41,609 SF Armed Forces Reserve Center, 7,109 SF Organization Maintenance Shop, with an unheated storage building and organizational parking. Supporting facilities include land clearing, paving, fencing, general site improvements, and extension of utilities to serve the project. Force protection (AT) measures will be incorporated into design including maximum standoff distance from roads, parking areas, and vehicle unloading areas. Berms, heavy landscaping, and bollards will be used to prevent access when standoff distances cannot be maintained.
The new $15.5 million U.S. Army Reserve Center will be built where the city's old Coca-Cola bottling plant once stood and will combine Brownsville's Army Reserve and Texas National Guard units, which are currently housed in separate facilities on the campus of the University of Texas at Brownsville and Texas Southmost College. Once the new building is complete the old buildings will be vacated and demolished, and the land will cede to the university.
The project is part of the fifth phase of BRAC, a Department of Defense effort that began in 1988, the purpose being to close surplus military installations and consolidate assets to save money on operations and maintenance.
SVE Group's work includes LEED Credit Validation and documentation. SVE Group shall coordinate through the Contracting Officer with the Government's LEED consultant on assuring assembled data is acceptable to USGBC and responding to USGBC requests for additional construction data in the course of seeking project certification. SVE Group also developed a construction phase LEED Implementation Plan. The plan, when completed, provided a detailed description of all activities that relate to accomplishing project LEED requirements, including construction practices, procurement practices, and proposed submittals and documentation for each LEED credit. Our final deliverable for the project includes a LEED Documentation Notebook. SVE Group shall prepare a comprehensive notebook documenting compliance for each LEED credit identified in Table 1 of the contract documents. The LEED Documentation Notebook shall be formatted to match LEED numbering system and tabbed for each credit and prerequisite.
The project is pursuing a LEED Silver Rating.
Return to Featured Projects page
---