USACE (C4ISR) Finishing Center
Tobyhanna, PA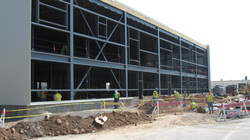 SVE Group was selected to provide the Building Commissioning and LEED Administrative Services as a sub consultant for L.R. Costanzo Co., Inc
U.S. Army Corps of Engineers (USACE) plans to build a Command Control Communication
Computers Intelligence Surveillance Reconnaissance (C4ISR) Finishing Center. The
construction of the new C4ISR Finishing Center (C4ISR) will take place at the
Tobyhanna Army Depot in Tobyhanna, PA.
This C4ISR Finishing Center is required to repair, refinish and apply protective coatings to large tactical systems, such as Ground Theater Air Control Systems (GTACS), Firefinder Systems, Radio Terminal Set, and numerous Range Threat Systems.
The facility will contain sufficient overhead lighting appropriate to the type of work performed, electric, flooring,insulation, cargo and personnel doors, and fire detection and suppression.Restrooms, showers, change rooms, lockers, break rooms, and administrativeoffices will be included within the facility. This building will be equippedwith new state-of-the-art combined spray cabin and low bake ovens, blastingrooms for ferrous and non-ferrous items, a hand sanding area with a centralvacuum system, wash and masking areas.
The following systems were commissioned as part of our scope of work:
Boilers
Heating Hot Water Pumps
Variable Air Volume Air Handling Units
Constant Volume Air Handling Units
Return Fans
Variable Air Volume Boxes
Variable Frequency Drives
Split-Type Air Conditioning Unit
Air Cooled Condensing Units
Exhaust Fans
Gas Fired Unit Heaters Electric Unit Heaters
Air Curtains
Dust Collectiors
Paint Booths
Blast Booths
Domestic Water Heater (Gas and Electric)
Testing and Balancing
HVAC BMS Controls
Lighting Control System
Return to Featured Products page
---